Want to help with this section by writing your very own news brief?
See below for the details
!
Also, read our briefs from other years;
CLICK HERE
.
Sunday, November 27th, 2005
Progress in Iraq
Some of the progress that has been achieved in Iraq includes: millions of Iraqi voters, no suicide bombings on day of referendum, there are more than 100 independent newspapers where none existed previously, more than 116 al Qaeda leaders in Iraq are no longer in operation, and Saddam Hussein has been taken into custody. Follow the PowerPoint presentation below to obtain more details that pertain to Iraq and Coalition Forces.
Congressman J. Wilson: Iraq Progress Update (PPT)
Sunday, October 2nd, 2005
Dutch Threesome Enters Civil Union
The first love triangle to become a civil union occured in The Netherlands last week. 46-year-old Victor de Bruijn of Roosendaal united with his former wife, 31-year-old, Bianca and 35-year-old Mirjam Geven. Mr. de Bruijn claims the secret to this union will be the bisexual nature of Bianca and Mirjam.
WorldNetDaily: Dutch 'Marriage': 1 Man, 2 Women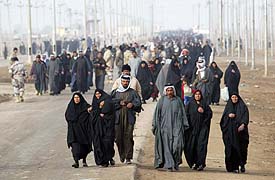 Iraqi Patriots Demand Freedom
Sunday, January 30th, 2005
Iraqis Turn Out To Vote
In a sentence, it is clear that Iraqis do desire freedom. Turnout was high on Sunday, January 30th in Iraq, including places that are considered to be violent. Even citizens who suffered from bomb attacks came out to vote. Read the full article below.
The Daily Star: People Power: Iraqi Voters Make Their Mark
Wednesday, January 5th, 2005
Tsunami Relief
There are a number of organizations that are accepting money for Tsunami relief. Many organizations keep a disproportional amount of money for operating costs, which include paying salaries for those who lead the organization. Operation USA boasts 100% of its donations go to the affected regions. In a 2003 Report, Operation USA used 1.2% of its donations for administrative and fundraising costs. Visit Operation USA to donate now.
If you have a creative, thought-provoking slant to a newsworthy event that would enhance the pages of The Liberator, we would like to know about it. We will give you full credit if it happens to find its way to this site -- we promise. Simply send your thoughts via e-mail to the editor.